About Doggie In The Window
Doggie In The Window was created 14 years ago with your dog in mind. Envisioning the perfect place to bring your dog - we developed our 20,000 sq ft. facility to provide a safe, fun and enjoyable place for your dog to be a dog with the best care possible from an amazing staff.
As dog owners ourselves, we understand and pay attention to the fact that while you're away, your pets still want to play and the thought of "boarding" or "leaving" your pet somewhere isn't always, well.... appealing. We addressed that with the care, attention, and professionalism at Doggie In The Window. Your dog will always feel comfortable here.
 - Wendy Luczak, Owner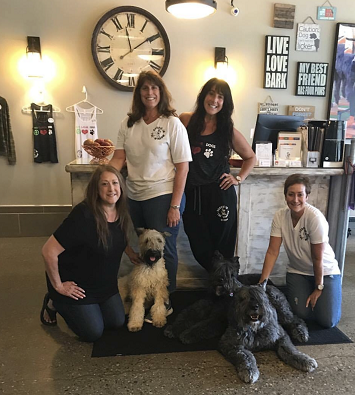 We know how very important it is to socialize your puppy at a very early age. Once your veterinarian gives the "OK" and we conduct an initial evaluation, please bring your puppy in to start socialization training to set them and you up for long term success! We will monitor their potty training progress and give you a potty chart the first few times you leave them with us. We will also assure they eat their lunch - we feed lunch as long as your dog is under 6 months of age. Once your dog reaches 4-6 months of age please take advantage of our dog training classes.
We are also very happy to have had a long term relationship with Dr. Orit Szwarcman who can take care of the basic veterinarian needs of your dog while your dog is visiting Doggie In The Window for the day. Talk about convenience!
Our staff is trained to pay attention to your dog's behavioral clues which might indicate they are not feeling well. If we think your dog might not be feeling well we can place them in a separate part of the facility that has its' own ventilation system so we minimize the contact with other dogs. This 'Vet Tech' room is easily accessible by our staff and we will check on them frequently until we can assess the long term needs of your pet. We will contact you and offer the option of having our veterinarian partner Dr. Orit Szwarcman evaluate your dog to help us assess their needs. If it is determined your dog needs further veterinarian assistance we will let you know and make arrangements for your emergency contact to transport your dog to and from the vet clinic. In the event we are unable to contact you in an appropriate amount of time we will contact your emergency contact to help make decisions.
We love our holidays at Doggie In The Window! Whether they be civic, Christian or Jewish holidays we celebrate them all! We love dressing up our pups and sharing pictures with you… sometimes we dress up ourselves! 
Even Mr. and Mrs. Claus favor Doggie In The Window.
Our slogan is "Where we treat your dog like a member of our family". We are very fortunate to have all three of Wendy's sisters associated with the business. Lisa and Jennifer work full time. You can find Lisa most times at the front desk and she will always make you feel very, very welcome. Jennifer is our boarding specialist and is entrusted to keep track of all of the details associated with boarding your dog including monitoring feedings and assuring medications are properly administered. Susie helps out in administration by taking care of the payroll details and paying the bills.
We invested millions of dollars and years of time to provide a first class facility for your dog! We prepared for almost 10 years to assess and implement the features that are so key to providing a clean, healthy environment for your pup. We invested in heating and cooling units that bring in fresh air on a continuous basis in order to keep the air clean. We have heated concrete in the outdoor area in order to be able to continually clean the pea gravel year round (not to mention we don't have the nasty yellow ice and slush that many of us struggle with at our homes in our dog run areas). We also took into consideration the fact that some of our 'snow dogs' like to frolic in the snow so we kept an area that is not heated so they can get their play time in the snow. We have an enormous kitchen area to have the capacity to feed our friends while they are boarding. We also have a backup generator in the event the power goes out so we don't have to bother you while you are on vacation. As mentioned earlier, we have a 'Vet Tech' area where separate ventilation is available if we have dogs who may have a contagious virus and we need to minimize contact with other dogs.
We maintain areas for 'small dogs' which we define as dogs with "smaller" personalities; large dogs for the larger dogs and the smaller ones with big, active hearts; a geriatric area for the old fellas who would rather have a calmer environment.
While we have gone to great measures to provide a safe and clean environment, we are very up front with our clients about the risks associated with group play. Wendy, the owner, will conduct a no charge, New Pet Evaluation (NPE) to assess all dogs before they join our family and we reserve the right to not service all dogs based on our evaluation of their temperament. Once your dog does become a client, they will have the opportunity to play for up to 12 hours a day. We often tell people it is much like taking your children to school and incidents can happen. Our staff is trained to differentiate between aggression and rough play. We shut down aggression immediately! We monitor play but occasionally dogs will get scratched, cut or bit. Once noticed, we will assess and determine the appropriate treatment. We will notify you prior to pick-up if your dog does get an injury while playing with their friends. Occasionally things do get by us so if it does, please advise us so we can investigate as appropriate. Because your dog is exposed to many other dogs, they can be exposed to viruses. If your dog gets sick after you take your dog home, please advise us so we can monitor to see if there is the potential for any mass outbreaks of any contagious viruses such as "Kennel cough". If we determine the risk is abnormally high for your dog to contract a contagious virus, we will post on our blog and advise you.
Address

2656 Eleven Mile Road Berkley, MI 48072